Product Description
| | |
| --- | --- |
| Product Name | teflon coated rubber stopper |
| Usage | Lantibiotics, injection, infusion, oral solution or other packaging |
| Marerial | Bromo-butyl(BIIR) or chloro-butyl(CIIR) |
| Raw material source | ExxonMobil Chemical |
| Sterilization method | Ethylene Oxide(EO) |
| Logo and sizes | can be customized |
| Colorful stopper | any color can be customized |
| Characterization | Odorless, airproof, stabilized chemical properties |
| MOQ of normal stopper | 10000pcs |
| MOQ of special stopper | 500,000pcs |
| Productivity | 2 million pieces per day |
| Workshop | 100-100000 class cleaning workshop meets the GMP standard |
| Sample and courier fee | free |
| Inner packaging | PE bag or RFS bag (Tyvek bag) |
| Outside packaging | 5 layers strong corrugated carton |
| Pallet packaging | Be offered |
| Payment terms | L/C, D/A, D/P, T/T, Western Union, MoneyGram, ESCROW, e-Credit Line. |
| Certificates | CE, ISO9001, ISO14001, ISO15378, SFDA |
Product Features
◆ The teflon coated rubber stopper can effectively reduce the absorption adsorption leaching penetration between the rubber plug and the drug, and improve the long-term stability of the drug.
◆ Improve the mechanical lubricity of rubber plug;Greatly reduces the number of insoluble particles in the solution caused by silicone oil.
◆ The compatibility with the drug can be significantly improved by selecting an inert soft coating that covers the rubber stopper and isolates the direct contact between the drug and the rubber cork.
◆ PTFE teflon and d butyl were compounded by glueless bonding technology, which effectively solved the problem that the rubber plug could not resist strong acid and alkali and corrosion resistance.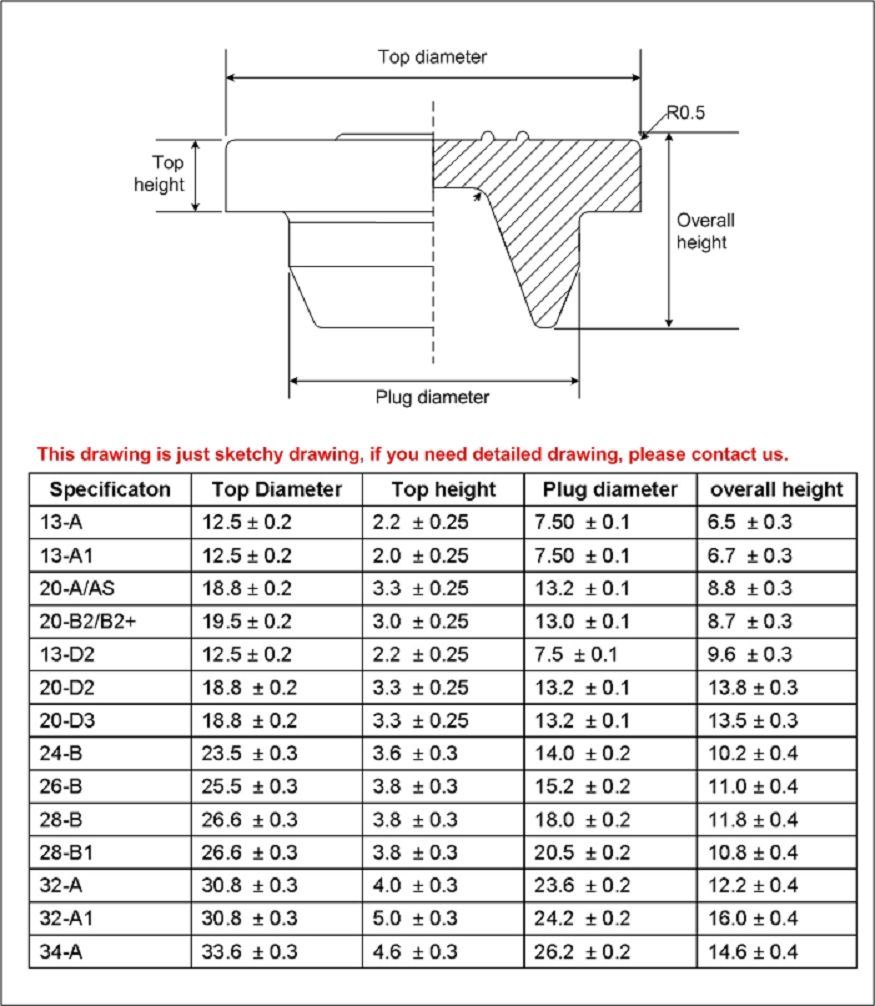 Packing & Shipping:
Inner packaging: PE bag or RFS bag(Tyvek bag)
Outside packaging: 5 layers strong corrugated carton.
Cartons can be packaged on non-fumigation pallet.
Packing Details:
teflon coated rubber stopper

Inner packaging: PE bag or RFS bag(Tyvek bag)
Outside packaging: 5 layers strong corrugated carton
Cartons can be packaged on non-fumigation pallet.

Specification

Carton sizes
(mm)

N.W./CTN
(kg)

G.W./CTN
(kg)

Qty'/20GP
(pieces)

13-A

470*370*220

15.0

16.0

21,300,000

20-A

470*370*220

18.0

19.0

7,100,000

26-B2

470*370*220

19.0

20.0

3,550,000

28-B

470*370*220

19.0

20.0

2,840,000

32-A

470*370*220

19.2

20.2

2,130,000

13-D2

470*370*220

14.5

15.5

14,200,000

20-D2

470*370*220

17.7

18.7

5,680,000